Last season I got into the habit of snowboarding a lot, and when the snow melted and the resorts closed I felt this was a major bummer. So, I decided to try out snowboarding in the
Southern hemisphere
, taking advantage of the fact that when it's summer up here, it's winter down there. In South America, the snow fun is in Chile and Argentina, so I picked Chile for starters.
Chile
is an awesome place geographically - I think of it as California compressed into half the width, with the mountains folded up a little higher and steeper in the process.
I booked my trip with
CASA Tours
, which meant that things were organized front to back by them except for the flight to Santiago. Their guides are bilingual, so I could have gotten by without a word of Spanish, but I picked up a couple language CDs prior to the trip and listened to them in the car and when rollberlading to work. This way, I'd know how to ask ¿Donde esta el baño? - not that it's particularly useful when you're out in the snow on some big mountain, but at least it gave a peace of mind. I was very happy with CASA tours - not only do the guides know Spanish but also they're good at finding powder on the mountain, pick good accomodations, organize transportation (in this case either a van or a 4wd suburban), and most importantly: helped us to safely explore off-piste / out of bounds terrain, with the van waiting at the bottom of the run where applicable.
The trip started in Santiago de Chile, which, coming from the US feels almost European. Here's a random shot from walking around the city; large pedestrian malls, friendly climate (note that it's winter!), lots of shops, museums, churches, and all the other things you'd expect from a city.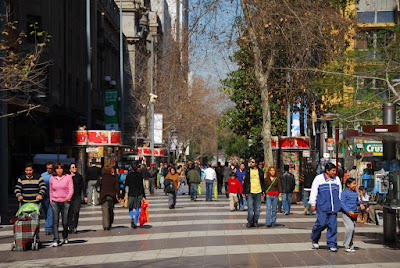 Musicians played for us while we had excellent Chilean seafood in a restaurant in the fish market.
For the first few nights, we stayed at a historic hacienda in San Esteban, the
"Casa San Regis"
. It's a large, old house with a fireplace, wooden floors that make noises as you walk around, and excellent food. Marcela, the owner, told us the story of the house, which started out as a land grant by the king of Spain - who roughly said "whatever you can see from here in this direction is yours". She also gave us her perspective on more recent Chilean history (Allende, Pinochet).
For the first two days, we skied
El Arpa
. This place has 4000 skiable acres - all large, open bowls without trees. For comparison, Heavenly has 4900 acres, with lots of trees. But El Arpa has no lifts: except for hiking or skinning up, the only way to get to the top is a snowcat, which can carry around 20 people.
The place is amazing. Here is a panoramic view from the top, which features
Aconcagua
, the highest mountain outside of Asia.
The slopes we used started out with a fresh coat of powder in the morning. It was good! Typically we didn't reuse a slope, so from the bottom, we could look back up and identify individual lines. In North American resorts, this is definitely pretty rare.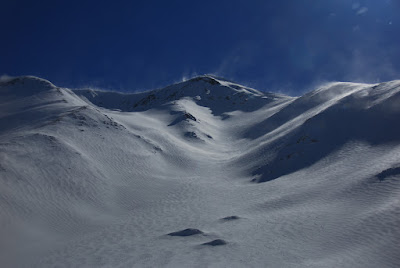 Portillo
was next. This is South America's oldest resort, and very famous. It's on the road to Argentina, which is an experience in itself. Just below the resort are some switchbacks which are tight like a bookshelf. The chairlift actually crosses some of these, so as you look down, you might spot a large truck underneath you.
The setting is a lake with the steep mountains rising on both sides, which have the lifts - to the point where the slope gets too steep and rocky to put lifts. Some slopes are only accessible via pomas, which supposedly were designed to scare snowboarders off the mountain. No big deal though, and much better than hiking up.
The remaining days, we went to
Valle Nevado
,
La Parva
, and
El Colorado
. These are three medium-sized resorts which are next to each other, all above the tree line, with views of Santiago de Chile. The evening shot looks from the Farellones (a skier village where we stayed) to Santiago.
The resorts have a few rocks to hike / play around, natural half pipes, and one high speed quad (in Valle Nevado) - the remaining lifts are slow, and often there's T-bars and poma lifts (though not the strange 5 parallel skier contraption as in Portillo). All had some groomed runs, with the one in La Parva being used as a race track. However, by far our best runs were the ones in the Santa Teresita area - this is a slope between the resorts and the road from Farellones to Valle Nevado. We accessed this once from Valle Nevado, and once from El Colorado, and both times it was a long run through fresh snow. I liked the run from El Colorado best - here's the lines we put down; pretty sure the one in the lower left corner of the picture was mine. Thanks a ton to Travis (our guide) for making this happen!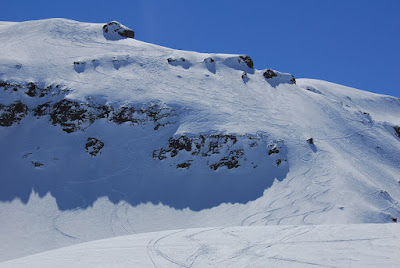 For more photos, check out my
Snowboarding in Chile 2008 album
.