Last Thursday I visited the San Juan
Bautista
Mission, which is south of the bay area on the
El

Camino

Real
, the trail that connects the California missions. California is young, so it's easy to tell
the story of San Juan

Bautista
: In 1797, Lt. Colonel Juan
Bautista
de
Anza
led an expedition that visited the site, as decreed by
Carlos III, the king of Spain
. So, while they were checking out the area,
Fr.

Fermin

Francisco

de

Lasuen

setup the mission
. The Spanish left, but the mission has been there ever since and
the mission church is up and running
.
The mission has a beautiful little garden with sculptures, a bell, flowers, and cacti.
The inside of the church is not huge, and a bit rural in style. I liked the patina of the wooden ceiling.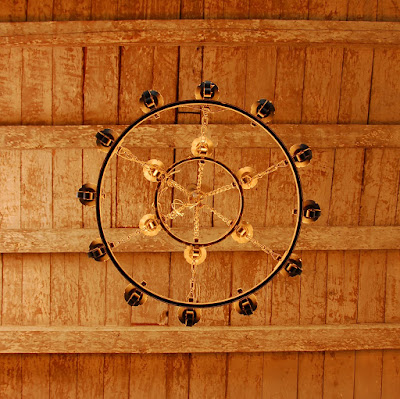 The bell tower of the mission, built in 2004, was featured in Hitchcock's
Hitchcock's Vertigo (1958)
. The Spanish plaza next to the mission also features
a historic hotel
and Staples.
Driving out of San Juan
Bautista
I saw farmers watering their lettuce.
What's best about this place? It feels very different than the bay area, and different than Santa Cruz - basically rural, slow, and peaceful - yet the food in town is surprisingly good. A nice place to relax.